Printing Services
Traditional 4 Color Printing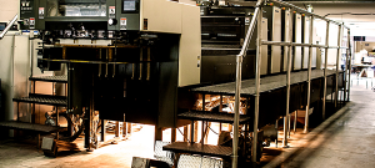 Traditional printing picks up where digital printing leaves off by serving an expanded set of client needs. Esprit's largest press, a Komori Lithrone 5-color press with inline aqueous coater, offers a maximum sheet size of 20"× 28" and unparalleled sheetfed quality. Press-runs of large quantities or pieces that are larger in physical dimension are great fits for this press. Running at speeds of up to 15,000 sheets per hour, this piece of precision printing equipment is a workhorse. Esprit also operates smaller, format sheetfed presses to meet the needs or projects whose requirements fall in between our digital printing capabilities and that of our largest press.
To maintain quality and consistency, Esprit has established relationships with the industry's leading graphic arts specialists. We continually evaluate and adjust our workflow to satisfy the expectations of the most discerning of clients. As our clients will tell you, we have a critical eye for color and consistency that sets the standard by which excellence in printing is measured.

Contact Esprit today for all your quality printing needs at (509) 586-7858, or by email at info@espritinc.net.