Shannon Novakovich
Our (other) Fearless Leader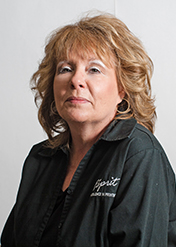 Shannon is in charge. Remember that, Skip.
Shannon is your go-to for orders and billing inquiries. As co-owner with Skip, she enjoys serving the community with the highest quality service and printed materials. All the while, she cares for the staff's needs and takes good care of us.
Somehow, she found time to be President of the Benton-Franklin Humane Society and always endeavors to do all she can for animals in need. This includes her very own Hayley Novakovich, a Saint Bernard who often accompanies her to the shop, and "Mama Kitty", a local stray cat, along with an assortment of others.
If you need any assistance with your order or have a billing question, please call Shannon at 509.586.7858.